GEORGIA'S PUBLISHER
Do you need a post card, brochure, presentation packet, or marketing piece for your firm?
Or, perhaps you simply want to purchase photo images to use for your special project? We can help!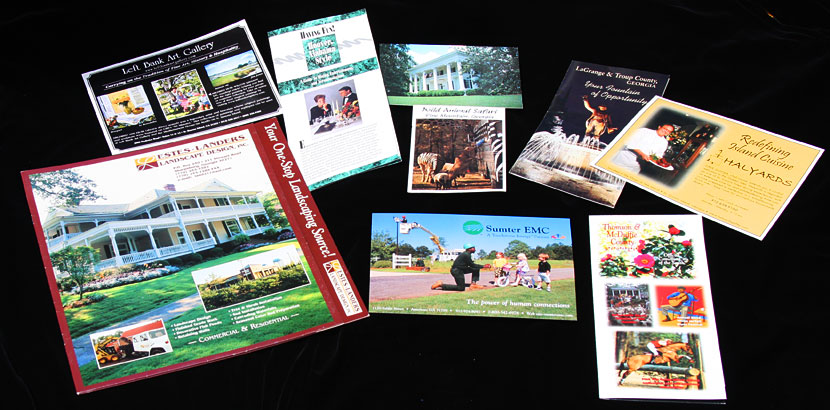 We have thousands of images or will be happy to arrange to take new ones! Call 229.938.8212 or email: CalDuke@mindspring.com to arrange your custom quote...We will have a photographer arrange your photo shoot once we have secured a firm order.

Our price includes photography, layout, design, proofing, and shipping at one firm price! Keep in mind, we do not utilize short-cut printers who may compromise quality with cheap, digital press-runs. We prefer to produce products which will generate a "pow" factor, based on top quality in the Cal Duke Publishing tradition...

NOTE UP-FRONT: In the event you are a former client in one of our publications and we have your image on file from prior printing, or if you supply high resolution (300 dpi or better images), you can deduct $50 per-image off the costs as shown in the following production costs. The normal turn-time is two weeks from proof approval, and allow 3 extra days for shipping - and shipping costs are included! Here are our prices:
POST CARDS (4"x 6"):
> full color front & enamel coating for top quality
>black and white copy on reverse side (we set)
> proof supplied
> payment required up- front via check or credit card
500..............$290
1,000...........$390
3,000...........$490
12,500.........$690
25,000.........$990
NOTE: For jumbo 5"x7" post cards simply add $150 to any column regarding these prices!
RACK CARDS (4"x9"):
> allowing up to 4 images & color logo on front side
> enamel coating on front side
> black & white copy on back side (we set)
> payment required up-front via check or credit card
1,000..........$1,390
3,000..........$1,590
12,500.........$1,900
25,000.........$2,350
BROCHURES (9"x12'):
> 3 panels with front and back side
> Allowing up to 8 color photos and color logo
> 80 lb. coated enamel for top quality
> proof supplied
> we supply layouts and proofs
> payment required up-front via check or credit card
3,000...........$3,800
6,500...........$4,200
12,500.........$4,580
25,000.........$5,690
NOTE: For four-panel brochures (9"x16"), add $1000 per column to the given price for the above 9"x12"

PRESENTATION PACKETS:
> Our most popular product is pictured in the photo at the top of this site. It consists of a 9"x12" size, or smaller if desired, allowing up to 4 color photos printed on the front & back of the cover run, using 100 lb. enamel cover stock.

The inside back cover is what we call a "locked pouch" which can be up to 3 inches high, which can hold your letterhead, with die-cut slots for your business card. Some clients prefer the side of the folder to have a banner running sideways so that when you place the folder in a file cabinet, the folder sticks up like a tab, per the sample by Estes Landers Landscape Design in the photo image at the top of this page.

500.....................$2,400
1,000..................$2,900
3,000..................$4,100
5,000..................$4,900

TO ADD interior pages, use the following ADDERS based on four-color and 80 lb. enamel stock:
> 4 pages, front & back side, 10 images...............$3,800
> 8 pages, front & back side, up to 20 images......$4,490
> 12 pages, front & back side, 35 shots................$6,980
> 16 pages, front & back side, 45 shots................$9,990



HAVE ANY OTHER REQUESTS???
Send us a sample of what you have in mind, or contact:
Cal Duke, President
Cal Duke Publishing, Inc.
103 Thompson Cove
St. Simons Island, Ga. 31522
Phone via voice mail: 1.800.569.1955
Email: CalDuke@mindspring.com



PHOTO IMAGES FOR SALE!

We have more than 1,000 images of Georgia scenes on file for sale at a rate of $125 for unrestricted use for each image... We also have some scenes from fabulous European destinations. What's on your wish list? Chances are, we may have or can arrange to take it!

On the opening page of this website, you will see several of our most recent Georgia publications, giving you a first-hand glance of many Georgia images we have on file...

Besides our staff, we are well-connected with expert photographers throughout the beautiful state of Georgia and beyond. Once again, we can help! Simply email: CalDuke@mindspring.com and give us your desires. We can also complete day shoots at reasonable rates of your community or business...


VIDEO PRODUCTIONS

Cal Duke Publishing can also produce an effective video or YouTube production for your firm or community! Ask Cal for a custom quote.